We Love Campers!
Grab your tent, pack the RV, gas up the car and head on out to Hoedown On The Harpeth!

We can accompany many types of campers. The festival site has ample room for tent campers, RVs, car campers and hammock lovers! At this point in time all camping is considered "rough", we do not have hookups for water or electricity. Depending on where you camp you may be able to park your vehicle at your camp site.
Camping costs $5 per person, per night.Camping FAQ & guidelines
Camping arrivals begin at 12 pm on Friday 12 October 2018.
If you arrive before this time you will be turned away.
All campers must vacate the festival site by 12 noon on Sunday 14 October.
Camping is first-come first-served, so get to the festival site early for the best site!
You need a camping wristband to camp and will need to wear it all weekend.
Everyone staying in an RV needs to have a camping wristband on.
RV camping is primitive: no hookups, no water, no cleanouts available.
 
Where can I stay if I don't want to camp? Check out The Montgomery Bell State Park  Dickson RV Park Address: 150 W Christi Dr, Dickson, TN 37055 Phone: (615) 446-9925
Kingston Springs/Pegram: MidTown Inn & Suites 123 Luyben Hills Rd Kingston Springs TN 37082. Phone: 615-952-2900
Bellevue: Hampton Inn Bellevue and Microtel Inn & Suites by Wyndham Nashville
Nashville: there are more hotels in Nashville than you can shake a stick at! Try this: Nashville Hotels
Dancin' Daves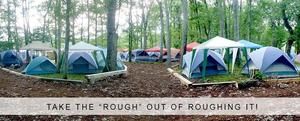 Dancin' Dave's
Festival Camping takes the "rough" out of roughing it! Offering first-class accommodations so that those traveling from the opposite coast, across the pond, or just across town, can have a full festival experience without the hassle of having to pack everything needed for a comfortable stay. We do all the work. Just show up, stay for the party and leave the tear-down to us. Camping has never been so easy!