Statement Of Purpose
Hoedown On The Harpeth
Statement of Purpose
 
As the sons and daughters of Nashville, we are the guardians and stewards of a sacred musical legacy. We propose an authentic outdoor country music festival that aims to keep the roots and history of country music alive. We will highlight the sounds and atmosphere that created this legacy. Hoedown On The Harpeth (October 12-13, 2018 Kingston Springs, TENN) will showcase bluegrass, old time, western swing, classic country, & honky-tonkin', acoustic music from Nashville's many local artists as well as guest artists from around the world. Our purpose is to honor the history and experience of country music, from the sound of the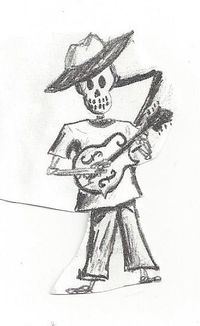 old-time fiddle on the front porch to the inception of the Grand Ole Opry and on to the "Bakersfield Sound". Country music legends such as Ernest Tubb, Loretta Lynn, Hank Williams Sr., Lefty Frizzell, Bob Wills, and Bill Monroe – to name a few – spent their lives loving and playing music for all of us to enjoy; therefore, we submit that the original sounds of such pioneers of country music be celebrated for purposes of preservation, growth, and most importantly appreciation by fans and musicians alike. Hoedown On The Harpeth will be more than just a festival; it will be an entire experience. Expect pickin' areas, street buskers and performers, historically-themed arts and crafts, informational areas, and family activities to bring the legacy of country music alive. For this is a way of music fast-fading, from which so much has been born and stands today. If today is only the result of yesterday, then these are certainly yesterdays best not forgotten.

The festival site is located on the Hayshed Farms in Kingston Springs, Tennessee. Conveniently located 20 miles west of downtown Nashville. The festival is on a gorgeous farm at the confluence of the Turnbull and Harpeth rivers.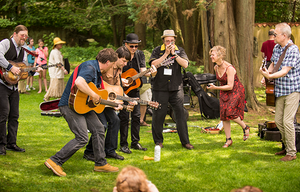 One main stage in the main field, backed up to the Turnbull River, and the Hayshed Barn stage are the heart of the festival and will host the musical artists, workshops, and barn dances. They will be close to each other for convenience, and acts will complement but not overlap. 

A "Pickin'" area on the river behind the main stage, and other "pickin'" areas – spontaneous and/or planned – offer spaces for acoustic musicians to gather and play throughout the night in impromptu jam sessions. Their presence adds to the timeless atmosphere of the country music festival experience.

Food trucks and beverage tents representing Nashville's best southern fare will also be stationed along the main drives for the convenience of guests. Vendors of arts and crafts will be selected for their authentic country wares, relevance to the history of country music and of Nashville, and will be interspersed among the food vendors and the music tents.

A family-friendly area will host arts and crafts for children,games and music workshops for young musicians.

Camping will be divided into different areas to accommodate RV campers with generators, tent campers, late night pickers, and quiet family areas. Artists and their guests will be offered a private, separate camping area.

Other activities offered will include, but are not limited to, games, street buskers and performers, workshops, and general pickin' and grinnin'.